The year-end PIFPAC Webinar took place on December 3. The PIFC team discussed the recent elections, legislation that we supported and opposed, and what we look forward to in the coming year. Voter turnout in the California General Election was an astounding 80.6% and PIFC-endorsed candidates did very well. In total, we won 13 out of the 16 races we had a stake in. PIFPAC is non-partisan and endorses the best viable candidate for the insurance industry and small business. This means that PIFPAC is able to endorse candidates from different parties, and it gives us more influence when we speak on your behalf. Here is a closer look at the races we endorsed:
Senate District 5 – PIFPAC Win
PIFC endorsed candidate Susan Eggman finished nearly 10 points ahead of opponent Jim Ridenour. Current Assemblymember Susan Eggman (D) from District 13 will be moving over to the senate. Ms. Eggman is a moderate Democrat with a long history in the legislature.
Senate District 13 – PIFPAC Win
An open seat, Josh Becker finished 50 points ahead of Alexander Glew.
Senate District 15 – PIFPAC Loss
Long time County Supervisor Dave Cortese beat PIFC endorsed candidate Ann Ravel.  We knew this would be a difficult race, and after an extensive interview process decided to endorse Ms. Ravel. During the campaign, Ms. Ravel gained significant support from the business community and moderate Democrats in the State Senate. We expect to forge a positive relationship with Senator Cortese and look forward to collaborating with PIFPAC Members who have a relationship from his time as a County Supervisor.
Senate District 21 – PIFPAC Win
After being down in early vote counting, incumbent and PIFC supported Scott Wilk beat trial attorney Kip Mueller.  We suspect Mr. Mueller would have been particularly adversarial to insurance and small business interests given his background, so this was an important win for PIFPAC. Senator Wilk has proven himself to be a longtime ally of the insurance industry.
Senate District 23 – PIFPAC Win
After being down in early vote counting, PIFC endorsed candidate Rosilicie Ochoa Bogh beat Abigail Medina by five points.  Ms. Ochoa Bogh earned an early endorsement from PIFC and we believe she will be a strong advocate in the legislature.
Senate District 29 – PIFPAC Loss
Incumbent and PIFC supported Ling Ling Chang lost to former Senator Josh Newman.  Polling showed that early in the race, Senator Chang was down and would have a difficult time retaining this seat.  We look forward to facilitating a good working relationship with Senator Newman and expect him to function similarly to his previous time in the legislature, which was friendly toward insurance.
Assembly District 4 – PIFPAC Win
Incumbent Cecilia Aguiar-Curry finished 36 points ahead of challenger Matthew Nelson. Assemblymember Aguiar-Curry has championed legislation to help small businesses in the past.
Assembly District 13 – PIFPAC Loss
PIFC endorsed candidate Kathy Miller led in this race until the final days of vote counting, when Carlos Villapudua pulled ahead.
Assembly District 30 – PIFPAC Win
Incumbent Robert Rivas finished 39 points ahead of opponent Gregory Swett.
Assembly District 35 – PIFPAC Win
Incumbent Jordan Cunningham beat opponent Dawn Addis by 10 points after returns were close the morning after polls closed.  Assemblymember Cunningham is a small business owner and has worked to reduce onerous regulatory legislation that would impact small businesses across CA.
Assembly District 42 – PIFPAC Win
Incumbent Chad Mayes who serves as Insurance Vice Chair had a strong finish against opponent Andrew Kotyuk.  Assemblymember Mayes is a small business owner and has generally governed as pro-business throughout his career.
Assembly District 54 – PIFPAC Win
Incumbent Sydney Kamlager, who serves on the Insurance Committee, beat a challenger from the left, Tracey Jones.  We anticipate Ms. Kamlager to run for the open seat in Senate District 30 in early 2021.
Assembly District 55 – PIFPAC Win
Incumbent Phillip Chen beat opponent Andrew Rodriguez. In addition to Insurance Committee Phillip also serves on the Select Committee on Small Business and Entrepreneurship.
Assembly District 68 – PIFPAC Win
Incumbent Steven Choi beat trial attorney Melissa Fox.  PIFC was heavily involved in this race.  It was the race we judged to be the most important, but also the most difficult to win, so it is a particularly good victory.
Assembly District 71 – PIFPAC Win
Incumbent Randy Voepel, who serves on the Insurance Committee beat opponent Liz Lavertu by 19 points. Assemblymember Voepel has a consistent track record of voting against legislation that would expand unnecessary red tape and costs for businesses.
Assembly District 78 – PIFPAC Win
PIFC endorsed candidate Chris Ward beat opponent Sarah Davis by 12 points. Assemblymember Ward is a former Sand Diego City Council Member and a long-time supporter of local businesses.
In addition to the tremendous showing of PIFC endorsed candidates in the general election, PIFPAC was able to defeat AB 1552 with a first ever Call to Action from our PIFPAC members. AB 1552 would have mandated that the insurance industry provide retroactive coverage to business interruption policies for a worldwide pandemic. Because of your diligence and willingness to make your voices heard in the legislature, AB 1552 did not make it to the Senate Insurance Committee.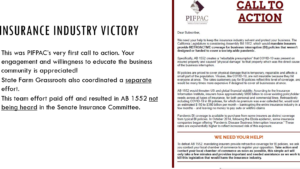 Even though 2020 threw many challenges our way, PIFPAC members stayed engaged in their local elections and continued to attend events virtually. Because of all  your hard work and persistence, numerous insurance and small business friendly candidates were elected to state office.